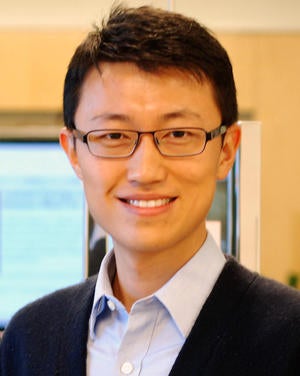 Jeffrey Liu is a 2013 PhD recipient from the Department of Statistics at the University of Illinois Urbana-Champaign. He is currently a Data Scientist at Google working on search quality systems and analytics for the tech giant search engine. 
What is your favorite part about your current occupation/position? How did you get to where you are now?
I work on search quality evaluation: we develop systems, experiments, and metrics to measure and help improve Google's search quality. My favorite part is that there are tons of data (think about billions of users and queries) to feed our analysis (various kinds of slicing and dicing, modeling, prediction, etc), which can sometimes be a luxury to a statistician. It's also rewarding to see that the insights from our data analysis will directly help improve search quality and benefit users.
Having a PhD from our Stats Department was a very important factor to getting my job. Aside from that, a combination of stats thinking skills, practical data analysis experience (courses, internships or prior work), the ability of clear technical communication, and a bit of luck :-).
What aspects of your education as a statistics student have been most beneficial to your career?
I was fortunate that our Stats Department provided a full suite of learning opportunities that got me well prepared for my career. For example: a great blend of courses (taught by great teachers!) on both stats theories and practical data analysis, and resources for internships and full time positions. I also benefited tremendously from my PhD advisor Professor Feng Liang. She helped me overcome my fear of equations, and showed me how to appreciate the philosophies behind them. The stats thinking l learned is still greatly influencing my work.
What advice would you give to current statistics students about the professional realm?
I would encourage our stats students to develop career goals early on, and try something to see if you like them or build some experience. But at the same time, I think it's important "live in the moment": try to excel in what you're doing now, such as your courses, projects and research. My experience is that often times people are evaluated by how well they perform in their area, much less by what they do. Another way to see it is that one's career can be as long as decades, but there are only a few years in college or grad school. So make the best use of you school time and try to be really good at something you are doing. Your hard work will eventually pay off.
What did you enjoy about being a Statistics student at the University of Illinois?
I enjoyed the stimulating environment our department created to share and discuss ideas with professors and peer students (sometimes from other departments like CS). This enabled to have several productive collaborations. I also liked the opportunity to teach stats classes, either as a TA or instructor. It was a great way to practice technical communication skills. Last but not least, I loved trying different restaurants on Green street (thanks to our department's prime location), and going to our department picnic at Crystal Lake Park every year.
'13 - PhD in Statistics, University of Illinois Urbana-Champaign