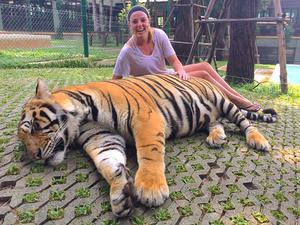 Tia Mark's first job out of college after graduating with her Bachelor's degree in Statistics in 2015 was for a consulting company, Mu Sigma, where she lived in India for six months and was able to travel all over Asia. Currently, Tia is a Business Process Manager at Walgreens headquartered in Deerfield, IL. Her daily responsibilities include managing strategic projects for the business in an effort to reduce waste and increase efficiency with Supply Chain processes. An integral part of Tia's role is leading data analyses to provide insights and recommendations to cross functional stakeholders.
What is your favorite part about your current occupation/position? How did you get to where you are now?I really enjoy the work/life balance at Walgreens. I've been with the company since 2016 and when I first started as an Analyst the work environment was very different. We had to dress business casual and were only able to work from home on Friday's if you had been with the company for at least 6 months. Now everyone is allowed to work from home at least 2 days a week and you can pick which days work best for your schedule. The dress code is casual so I can wear jeans every day if I want to. Not to mention I have the BEST team and we all support each other when needed. Our team engagement events are so fun and usually involve delicious food and wine that folks bring in. Overall just a wonderful work environment that makes me excited to be in the office each day
What aspects of your education as a statistics student have been most beneficial to your career?
I utilize SAS everyday to run the forecast, perform ad hoc analyses, and pull data for internal stakeholders so my Statistics background has played an integral role in my career path. The market for Analytics positions is booming and being able to have SAS or R experience on your resume is a huge plus for any hiring manager in the field.
What advice would you give to current statistics students about the professional realm?
No one knows what they are doing. It's OK. You'll figure it out.

What did you enjoy about being a Statistics student at the University of Illinois?
Having a sense of job security. Being a Statistics major from UofI is highly valued and sought after by companies. Every single company has some form of analytical position available and with the every growing space for "Big Data Analytics", I firmly believe having a statistical skill set will hold an even higher value in the future.
B.S. in Statistics - '15