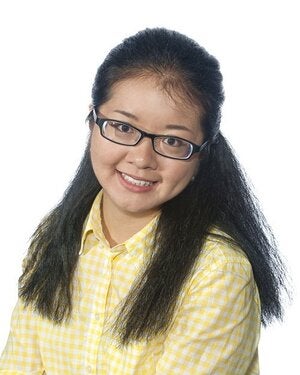 Choosing the MS in Stats program at UIUC was one of the best decisions I made in my early career. I previously had full-time work experience in a global digital marketing company, which introduced me to the analytics world, but it was the graduate school experience at UIUC that developed me into a well-rounded professional.
My career switch occurred after the MS program brought me an opportunity to work as a MAGNet (Modeling and Analytics Graduate Network) intern at the State Farm Research and Development Center located in Research Park. The summer before graduate school started, I joined the MAGNet program. While challenging, being a MAGNet intern offered me the satisfaction of learning new things each day and actually applying what I learned in class to real business problems. As someone who had a very limited undergraduate education in math and statistics, I was also very fortunate to be mentored by my MAGNet manager and multiple project leads. They not only provided me hands-on guidance on my assigned intern projects, but also encouraged me to think outside of the box. The MS and MAGNet programs allowed me to explore and create a career path for myself by bridging my background in marketing and management to a technical skill set with a specialty in statistical modeling and machine learning.
After graduation, I officially joined State Farm as a full time statistician on the bank/financial service team. About a year later, I took over the MAGNet lead role and started mentoring and coaching our graduate interns. Seeing them grow and succeed has been incredibly rewarding. In addition to that, my day-to-day work involves recruiting, training, and advocating analytic capabilities, where my marketing and management skill sets were especially helpful. This non-traditional statistician/data scientist career wouldn't have been possible without the MS and MAGNet programs.
Educational experience:
MS in Statistics 18' - UIUC
MS in Commerce 14' - University of Virginia