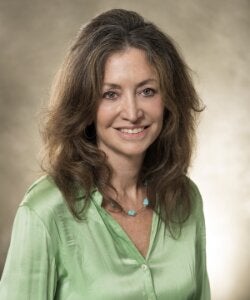 Contact Information
108 Illini Hall
725 S. Wright St.
M/C 374
Champaign, IL 61820
Biography
Ellen Fireman has taught statistics to many thousands of students at the University of Illinois at Urbana-Champaign over the last twenty years. She prepared for this task by getting a B.A. in Philosophy from Harvard, teaching at a day-care center, driving a school bus, getting an M.A. in Secondary Math  from Illinois, teaching at a public middle school, getting an M.S. in Statistics from Illinois, and teaching precalculus, calculus and then, for seven years, a large Linear Algebra class at Illinois. She received the Lynn M. Martin Award and the LAS and Campus awards for Excellence in Undergraduate Teaching for her  statistics teaching.
She frequently gives talks to groups on and off campus explaining the importance of statistical reasoning in everyday life and even teaching a little about causation and confounders. She lives in Urbana, Illinois where she raised two children and currently has one husband.
Research Interests
Active Learning Methods for Undergraduate Statistics Instruction
Web-based class survey methods
Online Education
Awards and Honors
LAS Lynn Martin Award for Distinguished Women Teachers (2005)
Campus Award for Excellence in Undergraduate Teaching (2005)
LAS Award for Excellence in Undergraduate Teaching (2005)
Over twenty appearances on the "List of Teachers Ranked as Excellent by Their Students."
External Links